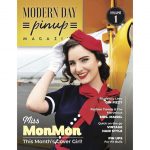 Short Business Description
The International Magazine Every Pin Up will be reading!
Long Business Description
The Pin Up Magazine EVERY Pin Up will be reading! A Pin Up Lifestyle Magazine catering to the Modern Day Pin Up that struggles with work and play, needs to be creating fast pin up hair-dos, loves to travel, yo-yos with their weight and LOVES vintage style and fashion. A quarterly released magazine that will have you laughing and crying, oohing and ahhhhing with all of our fabulous Pin Ups and articles.
Submission Guidlines can be found on our webiste.
Accepting Advertising Inquires.
Business Address
2101 14th Avenue, Vero Beach, FL 32960
32960